This winter seems to just never end! Right when we think spring is on the way, BAM, the temperature drops, and the snow starts falling again. Why?! I've never been a huge fan of winter (skiing ain't my thing), but this winter we decided to try snowshoeing because it seemed like the obvious way to keep ourselves outside during the dreaded cold months. And I must say, I'm glad we finally did it! The past two months have been a blur of awesome winter hikes and Telemark Nordic Club definitely tops the list.
Getting to Telemark Nordic Club
Telemark Nordic Club is a cross-country skiing and snowshoeing area that encompasses just under 3,000 acres roughly 25 minutes west of Kelowna, BC. It boasts 115 km of skiing and snowshoeing trails and is located in a mixed forest, surrounded by Crown land and beautiful mountains. It's a wonderful place for beginners and experts alike to enjoy the winter months!
We were pleasantly surprised at how easy it was to find Telemark Nordic Club. As we headed out of West Kelowna, we turned right onto Glenrosa Road and stayed on it until we saw the large Telemark Nordic Club sign that marks the parking lot, which was only 9 kilometers up the road. The road was paved and plowed the entire way and cars with winter tires would have no trouble getting here. Once parked, the chalet was only 100 meters from the back parking lot gate.
Passes & Rentals
Annual memberships, day passes, and ski and snowshoe rentals are all available at Telemark Nordic Club. The day passes are available at the chalet and the club accepts credit card, debit, and cash. If you don't have your own snowshoes, Telemark offers snowshoe and pole rentals for only $10 a day.
Choosing a Snowshoe Trail
There are five snowshoe trails at Telemark Nordic Club that range in length and difficulty. Each trail offers shortcuts and/or extra loops that let you customize your adventure.
If you've never snowshoed before, it's a good idea to start off with of the shorter trails and branch out as your ability and confidence improves. We also wrote an article about learning how to choose a trail that's right for you.
The Chalet Loop is 2 km and takes roughly 30 minutes. It's the easiest of all the trails and is fairly flat with only a few uphill sections. If you want to make the trail longer, there are four short loops that connect to it. The trail begins behind the chalet. View Map
Pine Forest is 4 km and takes about 1 to 1.5 hours. The first half is a long, gradual, 100 m climb. If you want to make the trail shorter, take the shortcut that reduces it in half. The trail starts in front of the chalet, alongside the Squirrel cross-country skiing trail. View Map
Panorama Ridge is 8 km and takes about 2.5 hours to snowshoe. The trail is riddled with quite a few short uphill and downhills with a gain of 100 m to the summit. There are two shortcuts that can cut it down to 4 or 6 km and three additional loop trails. The trail begins in front of the chalet, along the right side of the Telemark ski trail. It's rated as difficult, but we had no trouble hiking it. On clear days, the summit gives you amazing views of the Connector and Okanagan Lake. View Map
Jack Creek is 10 km and takes about 3 hrs. It's one of the two most difficult trails and sections of it are sometimes closed. Like the other trails, the beginning of the trail is marked by a short, steep hill while the rest is mainly flat or downhill. To reach the summit, there is a large uphill gain of 200 m. There are two side trails if you want to shorten your trip and it starts in front of the chalet. View Map
Crystal Mountain, the hardest of the five snowshoe trails, is 15 km and takes about 4 hours. Only experienced snowshoers should do this trail as some sections are in quite remote areas. If visibility is poor, don't try this trail. There's a large elevation gain of 330 m to reach the summit. Crystal Mountain begins at the 6.5 km mark of Jack Creek and ends at the 2.5 km mark of Pine Forest. A shortcut reduces the overall elevation gain and length. View Map
Our Experience on the Panorama Ridge Trail
The Panorama Ridge trail started at the chalet and we shared the trail with skiers for the first hundred meters or so. Before long, the trail forked and we enjoyed an easy walk along the side of ski trail before heading into the forest.
We headed uphill almost immediately and the workout made us realize how out of shape our winter bodies were. My snowshoes are designed for incline climbs, which made the climb a bit easier, but I was definitely breathing hard by the time we made it to the top.
After 1.5 km and a gain of just under 100 m, the trail flattened out and became much easier. When we stopped, it was to admire the views, and not because we were dying a little inside. After hiking through the beautiful forest for just over 3 km, we reached the summit! The fog had rolled in so we didn't see the amazing views of the Connector or Okanagan Lake, but it the perfect place for a lunch break.
The Weather
Perhaps the most memorable part of our time at Telemark Nordic Club was the weather. I know, boring. But we hiked through a blizzard of wet, hail-like snow that dispersed twenty minutes later to reveal a brilliant blue sky that warmed our faces and we let tiny, sparkling snowflakes fall on our upturned faces. We hiked amidst a white fog that obscured our view only to gaze for miles across the mountains and lakes a few kilometers later. The snow was perfect, a beautiful powdery white that hadn't been disturbed yet and the snow occasionally climbed to two feet high on either side of the trail. We were in absolute awe of our surroundings the entire time.
We barely saw anyone else our entire hike and those that we did see, they always quickly disappeared. It was wonderful to walk through the quiet forest with the snow muffling our footsteps. It was only in the last kilometer that my inner thighs started to scream and I knew I'd be in pain the next day. But it was worth it.
Remember to Refuel + Enjoy Your Surroundings!
It's important to fuel your body when you're hiking to keep up your energy. I'd brought my Coconut Hemp Protein Bars and hot chocolate in Jacob's Klean Kanteen, which kept it wonderfully warm and delicious. There's nothing quite like a good snack after hiking for hours! Make sure you dress properly, too.
As we ate, we watched the fog slowly roll out to reveal the view we'd been looking for. From our resting spot, we had a view of the Connector as it passed through the mountains. We were quite far away, but we watched the cars speed along like tiny ants in the distance. And just as quickly as it disappeared, the fog rolled back in.
Snowshoeing at Telemark Nordic Club is part of our Okanagan Bucket List! If you want more fun places to explore all year-long, make sure to check it out.
What to Bring on Your Snowshoe Adventure
A winter snowshoeing adventure is quite different than a normal day hike in the summer. There are a few things that'll make your adventure much easier, which equals more fun!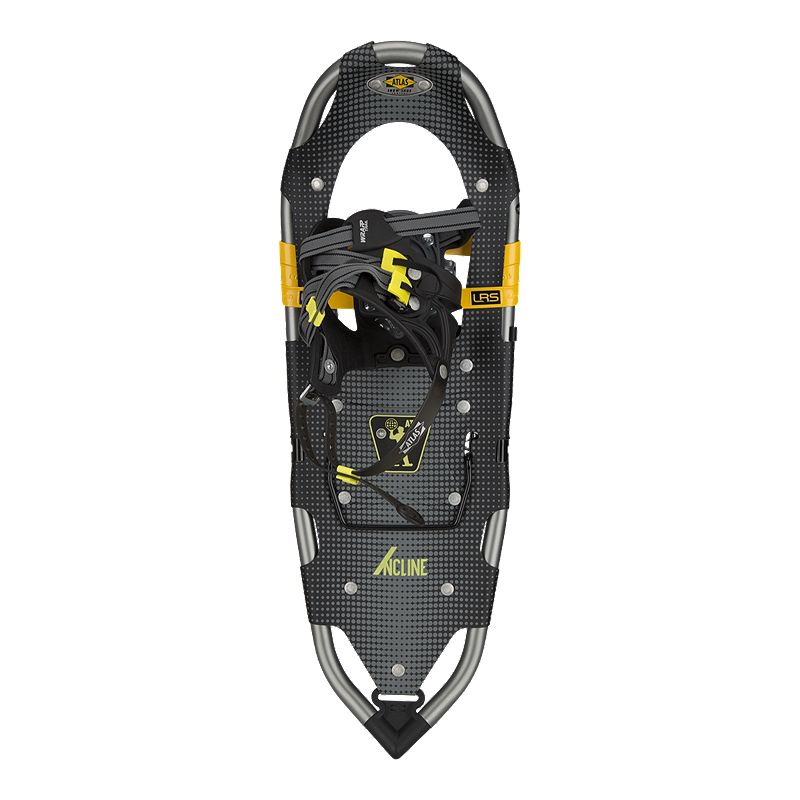 Telemark offers rentals, but if you're looking to get into snowshoeing, it's worth it to buy your own. We bought ours at Atmosphere during a Boxing Day sale and I don't regret it one bit. Ours are meant for incline hiking and come equipped with a heel lift, which really makes the hike up hills easier.
Snowshoes come in different sizes and are based on weight. There are both men and women's snowshoes, but the only real difference is that women's are a little narrower. Both Jacob and I have men's snowshoes but it really doesn't make a difference.
Many people wear actual winter boots when they go snowshoeing, but I've found that my waterproof hiking shoes work just as well. Granted, I haven't been snowshoeing when it's -15°C or anything. My boots, paired with my amazing wool socks, keep my feet toasty warm! They're also lightweight and small, which makes snowshoeing a lot easier.
Definitely get yourself a pair of wool socks, they're amazing! They'll keep your feet warm, even when they get wet. Wool is an excellent adsorbent and can absorb a third of its weight in moisture before it feels even a little wet. It's insulating, even when wet, and is great for sweaty feet all year round, even in the summer.
Trail Location & Information
Telemark Nordic Club is a wonderful snowshoeing area that's great for beginners and experts alike. The wonderful, scenic trails lead you through beautiful forest and mountains.
Distance
• Chalet Loop: ~2 km
• Pine Forest: ~4 km
• Panorama Ridge: ~8 km (GPS)
• Jack Creek: ~10 km
• Crystal Mountain: ~15 km
Duration
• Chalet Loop: ~30 mins
• Pine Forest: ~1.5 hrs
• Panorama Ridge: ~2.5 hrs
• Jack Creek: ~3 hrs
• Crystal Mountain: ~4 hrs

Difficulty
• Chalet Loop: Easy
• Pine Forest: Intermediate
• Panorama Ridge: Intermediate
• Jack Creek: Difficult
• Crystal Mountain: Difficult
Pricing
• $7/day pass
• Annual memberships available
• $10 snowshoe and pole rentals
Related posts
About Us
Hey there, we're Sam and Jacob! We're based in the Pacific Northwest and we love hiking, road tripping, and everything travel and outdoor related.

We hope to inspire and empower you to explore the great outdoors and experience everything this beautiful world has to offer!
Learn more