Gift buying is one of those things that I somehow simultaneously love and hate. I love hunting down the perfect gift and gathering with family around the tree to watch everyone's faces light up with excitement as they open it. But on the other hand, I can't stand the blatant consumerism the season has seemingly turned into. I cringe when I go to the mall and think about all of the gifts that will be shoved to the corner after the holidays. But gift buying doesn't have to turn into forced consumerism. I've created this collection of sustainable gifts in the hopes that fewer are tossed aside. Instead, I hope they're used over and over until they're threadbare and full of memories.
This season — and all gift-giving occasions going forward — I've made the commitment that I'll only buy gifts that will place real value in my friends and family lives. Whether that's through experiences, products that will further their hobbies, or something that will truly bring them joy, I'm making a conscious effect to be very selective in my gift giving. I hope you'll join me!
PS: Try wrapping your gifts in recycled paper or newspaper instead of sparkly wrapping paper this year! Recyclable paper has come a long way and there are a ton of cute designs out there.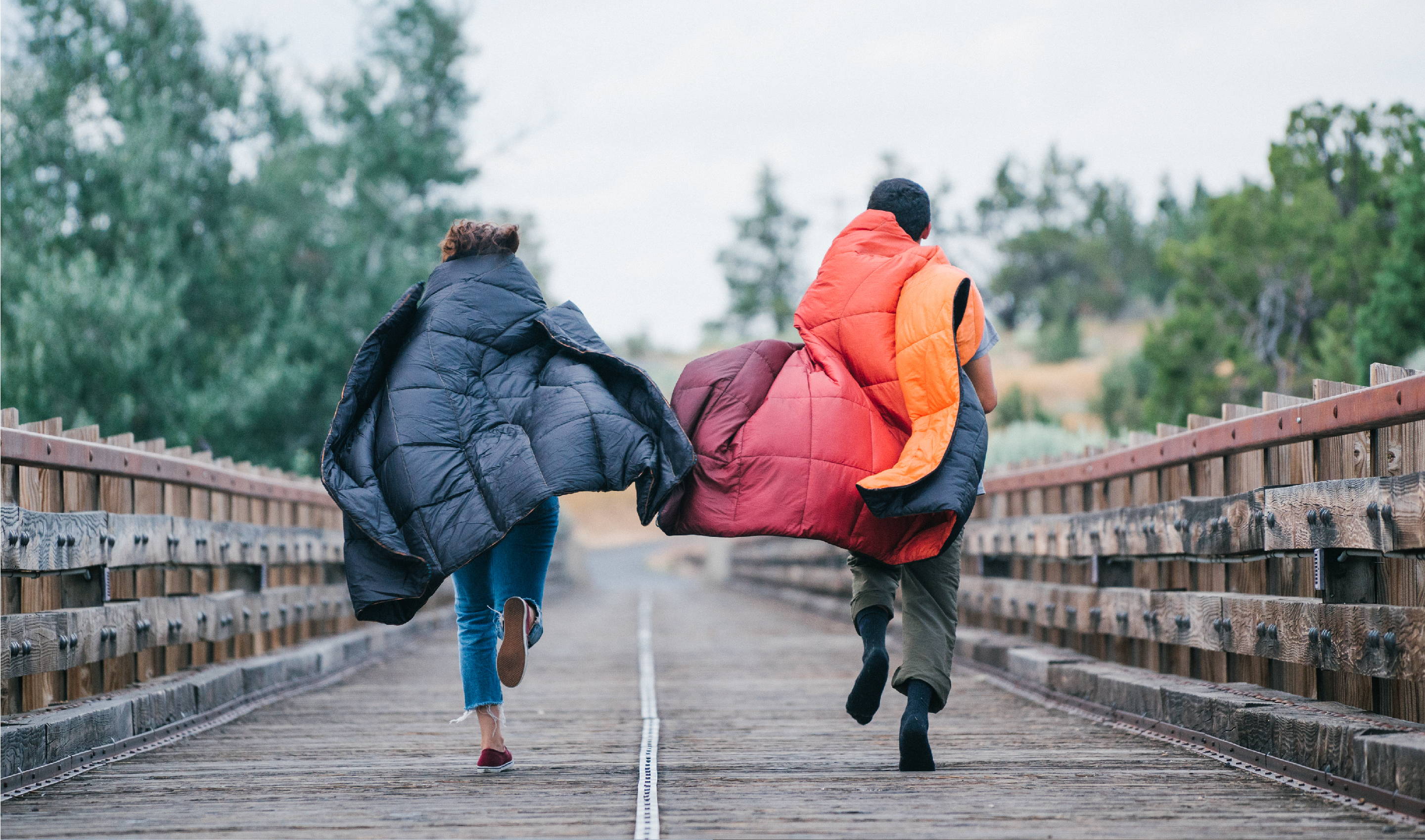 NanoLoft Puffy Blanket
Whether they're an avid backpacker or a casual camper, a blanket is always a welcome addition to an outdoor lover's gear. Outdoor puffy blankets are a little different than your regular couch throw — it has to be hardy and warm. Rumpl's new NanoLoft Puffy Blanket is perfect for cozying up by the fire or in the tent next to your favourite someone. The NanoLoft Puffy is filled with 100% post-consumer recycled clusters instead of down and is extremely warm, packable, and lightweight!
It's a blanket that'll be around for a long time and will quickly be full of memories. Your outdoor person will thank you every time they cuddle up for warmth under the stars.
Pela Phone Cases
Did you know that over 1 billion plastic phone cases are sold every year and most of them end up in landfills or the ocean? I'll just say it — that's disgusting.
Pela has been making a huge impact in the world of phone cases with their 100% compostable cases. These beautiful phone cases biodegrade in as quickly as three months when composted. How cool is that? And unless the person on your list has been living under a rock, they probably have a phone. Why not gift them a beautiful phone case or zero-waste screen protector that also supports their love of the environment?
Pela also gives back Save The Waves, Surfrider Foundation, and Oceana which are causes that help protect the world's waters.
S'well Bottles
I've loved S'well for years! The reusable water bottles can easily transition from the office to the trails and because they're insulated, drinks stay cold (or hot) for practically forever. I've beat mine up over the years and it still works great. S'well has what feels like a trillion designs available, from wood to sea turtles to the rainforest and everything in between. It's such a great, unique gift that you can really personalize. In fact, these reusable water bottles have become a go-to gift for me and everyone always loves them!
Not only are S'well bottles reusable which in turn keeps disposable plastic bottles out of landfills and the ocean, they also support UNICEF by providing clean drinking water to those in need.
Jord Wooden Watches
Watches are always a great gift — they're functional and beautiful. Jord creates wooden watches from sustainably sourced wood from around the world and they're hardy enough to withstand the outdoors (without being an "outdoor" watch). I love that I can wear mine to the office and be reminded of the outdoors every time I check the time.
PS: I have a giveaway that's running until December 15 for $100 off any watch! Click here to enter or read more.
Cotopaxi Teca
Cotopaxi's Teca collection's tagline is "Do more. Waste less." and their colourful jackets certainly do just that. The jackets are made from leftover fabric from other products and bring to life a retro-inspired jacket that's unlike most other outdoor wear. Who says you have to blend in with the forest?
Plus, the Teca jackets are lightweight and can easily be packed into a backpack.
Cotopaxi Del Dia
Next up we have Cotopaxi's Del Dia collection! These fun products are truly one-of-a-kind — you won't meet any other person with the exact same product. Why? Well, the Del Dia collection is all about repurposing unused fabric (just like the Teca collection above), but it also gives employees full creative control over the final look.
The collection includes backpacks, satchels, duffels, fanny packs, and totes and the designs are the same as the regular products, just with fun designs.
Londre Bodywear
A bathing suit might seem like a weird gift because they're always awful to try on, but somehow Londre has sidestepped that awfulness. This kickass women-run business has created bathing suits that look awesome on everyone! Literally everyone. I actually don't know how it's possible.
The suits are made from recycled plastic bottles and have compression built right in so it's surprisingly thick. They feel amazing and can be worn as bodysuits as well as bathing suits. Cool eh?
Cupanion
Everyone needs a reusable water bottle to use all the time. If you're looking to gift an awesome one, Cupanion does more than just create reusable bottles. Every time the bottle is refilled Cupanion gives clean water to a person in need! Not only are you making a difference by gifting a reusable bottle, you're making a difference in someone's life by giving safe water.
They also offer Fill it Forward tags that you can connect to any reusable water bottle. I love this so so so much! The tags make great stocking stuffers that keep giving back.
2020 Stewardship Calendar
United by Blue is one of my favourite stores to browse. They always have new sustainable products coming out (and they're committed to cleaning up and protecting the world's waterways) and this beautiful 2020 calendar is no exception.
The calendar itself is made from recycled paper and reminds you every month to do your part in protecting the environment. And instead of "important" celeb birthdays or something equally useless, it includes important days in environmental history.
Mountains Are Calling Fleece Blanket
As much as us outdoor people always want to be outside, it's usually not feasible to live our entire lives out there. This beautiful fleece blanket from United by Blue is the perfect touch for your outdoorsy person's living or bedroom and, best of all, it can come camping, too!
The blanket is made of 75% recycled polyester and 25% wool, which means plastics are being recycled and not ending up in our oceans.
BioLite CampStove 2
This great little stove is wood burning which means there's no need to carry around propane while camping. Your friend just needs to forage in the woods for a few seconds and they'll be set!
It's easy to cook, grill, and boil like normal, plus the stove generates 3W of power which is enough to charge USB devices (ahem, a phone).
I hope you've enjoyed our collection of sustainable gifts and are able to find some awesome gifts for those outdoorsy people in your life! Happy gift giving!
---
This article contains some affiliate links, which means if you buy something through our links we'll receive a small commission at no extra cost to you. We're very grateful every time you choose to support us. Thank you!